The view from our spot on the lawn around 7:30 am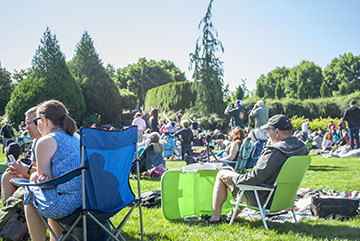 That same view an hour later.
The Lovely Miss Lynn waiting on the sun.
As the moon slips in between the earh and sun, shadows get real weird.
We has arrived in plenty of time to relax and people watch and beleive me something like an eclipse bring out the people to watch.
As it gets closer to the time for the eclipse the light starts to change and yet with only minutes to go o what is supposed to be complete darkness you are thinking it is still too bright and then it happens.
Check out our 360 degree video below to see what it was really like.
Full eclipse.